Gabrielle J.
Andrea is awesome! I bought my house from her when I arrived in Austin, she helped sell my brother's house and I will be working with her to sell my house. She makes you feel as if you are the only client she has and supported me throughout the process. She is truly as asset to her clients. Fantastic job Andrea!! Thank you!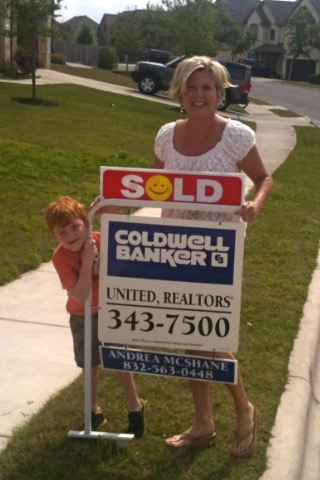 Greg & Jenny H.
Andrea McShane was a wonderful choice in picking an agent to sell our home in Austin. We needed to move to Arizona for my husband's job and she was ready to jump on it and get it sold! In fact, she managed it in 48 hours. We were very impressed with her kindness and enthusiasm. Right away she had people in and an offer on the table. Great job!
James & Lily S.
Andrea has a keen attention to detail and is responsive when we need her. There were many times we sought advisement from Andrea and she consistently provided perspectives that were honest, professional and spot on. She is a guiding light throughout the process. She is a problem solver during tough times. She is our trusted advisor that we can depend on. Even now, we keep in touch with Andrea because she is someone we will continue to trust and respect long after the transaction is over.


Dr. Carlos A.
SOLD! - my beautiful high end home on Lake Travis. I couldn't have asked for a better experience. My realtor, Andrea McShane, took my property under her wing and treated it and me with a personal, professional, experienced touch that made all the difference. She understood that this was my home. She and I discussed the importance of marketing the property in such a way that portrayed its real value and potential for income production. As a result, she put together an amazing presentation. Other realtors I had talked to were only interested in reducing the asking price for a quick sale and commission. She showed the property by appointment and only to serious buyers. She kept me up to speed on each showing. As a result, the buyers that now own the home are amazing people and will no doubt take good care and enjoy the property for many years to come. Cheers to the best - Ms. Andrea McShane, on a job well done.
Len & Nancy V.
It was our good fortune that Andrea came into our lives through a chance meeting. She became not only our Realtor, but our friend. Because of Andrea, our desire to move from our long-time home in Richmond, VA to the Austin area became a reality. We are blessed with three young beautiful grandchildren, and it was our hearts' desire to watch them grow up. Because of the distance, we trusted Andrea to select our lot to build our home in a brand new planned community in Leander. She held our hands through the process and we are not just a six-mile drive from our grandkids. Thank you Andrea for being our Realtor and our lifetime friend.
Lisa R.
Andrea is by far the best agent I have ever worked with. She is knowledgeable, calm, efficient, quick responses, available, resourceful and makes all my transactions run smoothly and effortlessly. She's always fun and full of energy. Andrea is amazing!


Mike & Megan M.
Andrea McShane is the most thoughtful and committed realtor anyone could ever ask for! My husband and I bought our first home together with her assistance. She was able to answer our questions throughout the process including questions on the very complex closing documents. Andrea listens to your individual needs and does her very best to find exactly what you are looking for. She makes the stressful but exciting time of buying a home very fun as well.
Collier K.
Andrea was a fantastic person to work with. This was my first time buying a home and Andrea went above and beyond to help educate me on the market, the process, and the nuances of home buying. I could not have asked more from a real estate agent than what Andrea delivered.
Deb R.
We recently purchased 2 properties in the Austin area. Our real estate agent, Andrea McShane, made the whole experience such a pleasure! She went over and above for us. She really got to know us and what we were looking for.. Coming to Austin from out of town would normally have been such a hardship. She eased the burden very much. We recommend her to everyone, and look forward to working with her again!


Matt & Lorie L.
We presented Andrea with quite a challenge "Find our dream home for our family of 12 in our price range and less than 30 minutes from my office and no we don't know what that looks like." In this competitive, multi-bid market, Andrea delivered above and beyond our expectations. This was, by far, our smoothest, easiest, and most enjoyable house buying experience. We love our property and it's all thanks to Andrea!
Juan & Elisa B.
Andrea McShane assisted us as our Realtor with the purchase of our new home in Austin on Lake Travis. She is an outstanding Realtor! She is very knowledgeable of the Austin real estate market and was so helpful in our search for the perfect home. She is a wonderful person to work with. This was honestly our easiest home purchase experience. I highly recommend her as a Realtor to my family, friends and anyone else in their search for the perfect home. Thank you so much Andrea!
Monika G.
Andrea was not only a class-act, but a pleasure to work with. I had a really fun experience! ?Wish I had more properties to sell.
Jim & Sandy S.
Thanks for being the best Realtor ever! It was fantastic working with you. Thank you for helping our little family find our dream home. We are super excited about starting our new lives in Austin!